How to increase yield from a website part 2 devoted to such essential parameters yield increase as clicks and click price. The first part how to increase ad spot impressions is here.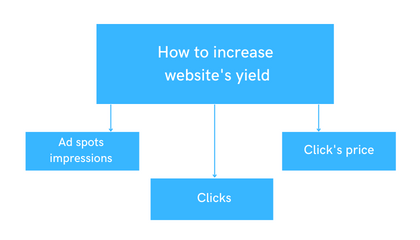 So, along with website's traffic and impressions volume it highly important to provide certain click rate and value of each click.
Clicks
Getting clicks means interest of website visitors. This also means, that there is a high chance that interested user will dive into more details and be almost ready to purchase an offer. In other words, it will help to increase yield from a website. Please pay attention to the below in order to stimulate curiosity of a website's audience.
Creative and creative content quality.
Top performing creatives are usually done in attractive and bright manner. Whereas content should be readable and plain and have call to action section.
Creative layout plan.
Creative layout design should be atrranged to grab a visitor's attention and communicate information in a visually appealing way.
While repositioning of ad units can partially cure banner blindness. Also, if a website allows, it ispossible to randomize ad spots positioning.
Formats. For different devices which visitors use, aligne the best fitting format. When choosing a format think about native as well.
Targeting.
Click's price
The more popular vertical and higher conversion rate the higher click's price and yield.
Quantity of demand partners. Active auction for clicks provides higher click rates.
But remember that nobody canceled the golden mean law. Try to search for compromise between a number of demand partners and stable website functioning.
Seasonality (if applicable for the good/product)
Trafic quality given by quality of website and it's content. Interesting, useful and original content is always on top among visitors.
Exlude bots, iframe and similar.
Website'topic.
All points above lead to the conversion rate of an ad spot. Ultimately, demand partners look after calls, orders, etc. – sales increase. When you come to conversion rate analisys, don't forget to work on misclicking minimization.