With the adnetwork from this story we started cooperation in December 2021. Having 20 sites in management client wanted to get a stand-alone header bidding management solution to be able to make nessesary implementations and changes by themselves and without any tech hassle, as well as reduce of ad server fees.
How we started:
First month we spent in joint investigations and free trials to detect which features suit the best for the client. We did not want to rush and carefully thought out and tested everything.
Start was arranged in an orderly, tidy way with the volumes of 1.2mm ad requests a day with only 3 bidders activeted: Appnexus(Xander), Criteo, Rubicon Project.
During that month client started to get first results – 17% fill rate, average eCPM $1.13 and headbidder server fee 3%. Since the revenue and fill rates had increasing trends, client started adding more sites and bidders. Following that, growth in fill rate to 41% resulted in the decrease of adserver fee to 1.7% from adrevenue.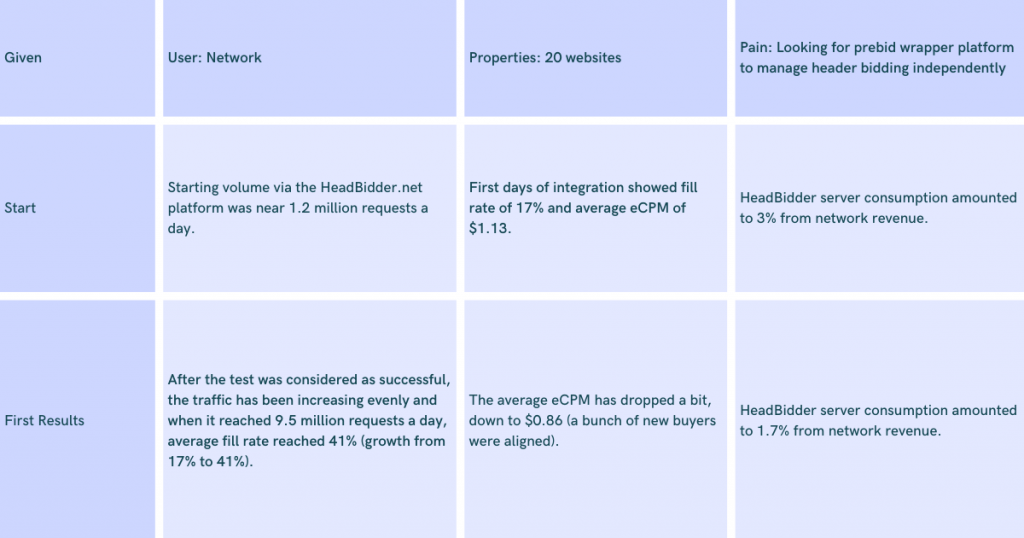 What we made for client:
Provided wrapper builder

Any of bidders from the industry can be added. All bidders are  updated and adopted by the tech team by default;

Provided automated GAM management system

to speed up creating and management of orders;

All-in-one User Interface

All the data on the header bidding and GAM operations available in single User Interface. This helps to see and compare all numbers on one screen and take wise decisions;

Lazy-Load

Implemented the lazy-load feature, which made it possible to speed up the loading of pages on sites;

Development on request

Performed some customized tech developments on request.
We continue our cooperation at the moment and working on performing White Label solution for this client.
P.S. If you have any questions or ideas about header bidding, why and how to use it, just ping us and our team will be happy to provide insight.